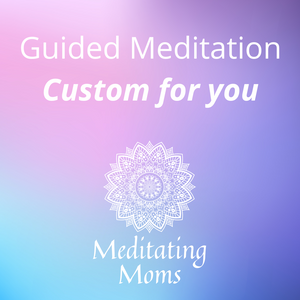 Do you want a guided meditation that is specifically for YOU?   
You've found us for a reason.  That is because you want transformation in your life.   You are empowered and know you have the magic in you.  You just need some help along your path of evolution.   
Instead of spending your precious time listening to generic guided mediations, let us create a custom meditation just for you.  We will incorporate all your intentions and goals.  We will create visualizations that focus on your dreams.  
Once purchased, we will email you some questions so that we truly understand what you want...what you want to manifest and how you want to feel.   Then we will create a custom guided meditation for you.  Choose a length - anywhere from 5 to 30 minutes. 
This makes a remarkable gift!  We look forward to hearing from you!
(No shipping costs - it is all by email.)
Follow us on Instagram:   @meditatingmoms
More information:   MeditatingMoms